BOOKED NO MORE SPOTS AVAIL: Carnivore Trading Academy April 2023 Session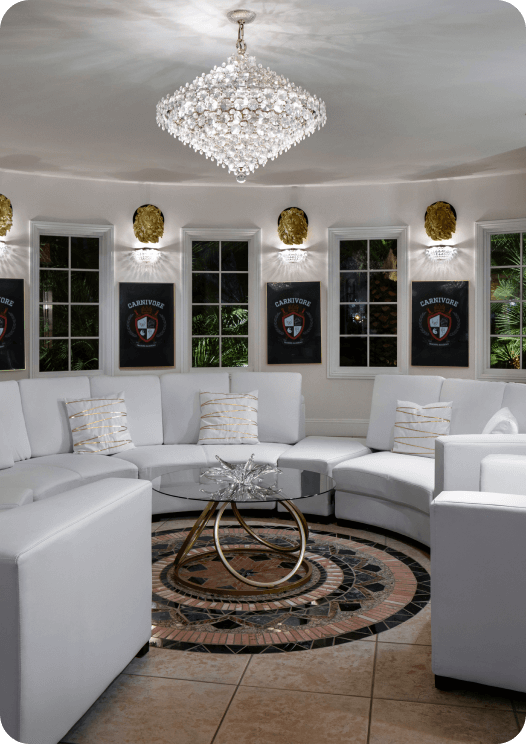 Event Date:
April 3, 2023
Event Location:
Conrad Hotel Resorts
Join us for Happy Hour Sunday Night.
The Academy starts Monday Morning
at the Conrad Hotel in a specially outfitted meeting room for live trading and instruction before the market opens and you have your laptop with you, you plug in and power up and log into your trading account.
Coffee and light breakfast await you – there is no need to dress up or be fancy, just be ready to learn and trade with your laptop in hand. If you don't have one, one will be provided for you so you can log in and trade from your commission free account, wherever that might be.
From the minute the day starts, Dutch and the Boys start talking with one another, and you – all of you are now on the trading desk with us. Because in fact, YOU ARE! We will be sending out our alerts and our updates, just as we always do, but now – you're a part of what we're doing in real time.
Along the way, we take one important element of our trading and discuss it each day.
You learn how to scale into a trade by doing it with us.

You learn how to set stops and the different kind of stops you can use – because you're there with us doing it with us.

You learn how to build a position, trim a position,

You learn what kind of orders to use,

How to accurately put a stop loss in place that is properly priced,

You learn how to identify amazing stocks using our systems and techniques,

How to identify when a stock is about to break out or roll over,

You learn the importance of using multiple time frame analysis,

and both technical and fundamental and macro and sector analysis all at the same time and how to do it quickly.

What indicators are the most important to us and how to apply technical analysis and read a stock chart.

You will understand how to anticipate a market move,

How to anticipate a move in a stock,

You will learn several tried and true stock trade setups that have high success percentages.
Each day, you will be exposed to another important element of the Carnivore Way, and it will become part of your arsenal to take home with you as a future Hall of Fame Trader.
After the trading day is over, we spend a quick 15 minutes reviewing the day and then you're free to go. From 1PM to 5 PM you can go to the hotel pool, go to your room to nap, get a spa treatment or massage, go golfing, play the tables or anything else you desire.
At 6PM the Carnivore limousines arrive to take you to the LVX Mansion, the Carnivore Compound, a 15,000 square foot mansion just off the Strip originally built by so-called "affiliates" of the Mob back in the day, that is now refurbished and dedicated to the Carnivores and The Academy Members. This private, gated and fully secure mansion and luxurious living compound is surrounded by over 200 palm trees, has 7 great rooms, sitting rooms, entertainment rooms, billiards room, putting green, water features, BBQ stations, indoor heated large pool, a rose garden, two fully stocked bars, a saloon with black and whites of Las Vegas and Hollywood stars and more.
At the Carnivore Compound, Academy members get to let down their hair at night, meet new friends, and are entertained by some of the best of what Las Vegas has to offer – the best entertainment in the world, and fabulous food prepared by 4- and 5-star chefs. You eat, you drink, you meet others, you can wander the mansion and explore the grounds, and then the show begins each night. A rock band, a jazz band, a country band, a spectacular guitarist, a piano entertainer, a magician, a comedian, a Billiards or Craps expert teaches how to play, two fully stocked bars inside, and before departing the mansion each night, special deserts, drinks and coffee at the mansions own Bistro next to the rose garden.
Then you are then shuttled back to your luxury hotel room around 10PM – remember, we start early the next day!
Sorry, this event is expired and no longer available.